Overview
DigiDMS is an integrated Healthcare Services company which offers Electronic Health Records(EHR), Transcription Services, Medical Billing, Clearing House Solutions, Collection services and Healthcare Audits. We offer a CCHIT 2008 Certified EHR in web based technology called Clinicspectrum and a Client-Server technology called DigiDMS.
We are ready to offer Health care IT custom component development targeted for health care companies as well as Healthcare research projects as specified by the Health Information Exchange (HIE) and the Nationwide Health Information Network Direct Project (NHIN ).
EHR(Client–Server Technology)
DigiDMS EHR offers integrated modules in order to achieve meaningful user in simple way.
Modules such as Appointment , Clinical Documentation, Complete eRx Solution, CPOE, CDSS, Patient Screening (integrated with Registry, PQRI data submission, syndromic surveillance submission), interoperability with clinics and hospitals through HIE, Patient Portal, Billing, and Lab interfaces allow seamless clinical flow between front office, mid office, and back office. The Clinic Dashboard offers a quick glance on the Clinic's daily tasks while the Patient Dashboard provides quick chart summary along with alerts due for any patient.
Transcription Service
We provide quality Medical Transcription Services Integrated with EHR programs to the healthcare industry. A committed team works on your account to assure 12-Hour turnaround or STAT with an assured accuracy over 98.5%.
Through confidentiality contracts, encryption technology and dedicated data lines, we adhere to the highest confidentiality standards. Our technical team can interface transcribed documents in HL7 format to any EHR system.
Clearing House
We have one of the most advanced and efficient Claim Lifecycle Management Solutions for ALL your Insurance Claims. During every step of the processing cycle , it ensures you receive every dollar to which you are entitled.
Billing Service
The foremost and most easily preventable reason for delayed and diminished cash flow in a medical practice is improper "follow up" and lack of attention given to unpaid/denied claims. Our billing service's primary focus is on following up on each and every single unpaid claim until it's logical conclusion. Denied claims are identified and appealed faster than most "in house" billing departments because our team strictly follows a rigorous "follow up" schedule subject to intense auditing and accountability.
Our commitment to this credo is backed up by a guarantee, unmatched in the medical billing industry, which promises clients a refund for any claim that remains "unchecked" (without claim status) within the timely filing limits of the Healthcare Insurance Industry. You will not find a more thorough and persistent team when it comes to Accounts receivable analysis.
We offer robust and flexible web-based services for electronic eligibility verification, claim submission to all payers, claim scrubbing, on-line editing, claim tracking, and extensive reports for work-flow management and analysis.
Collection Service
We focus on delinquent receivables while simultaneously providing professional courteous collection services.
Healthcare Audits
We provide management consulting, Chart, auditing, regulatory compliance, business planning and other services through a virtual network of offices. Our highly trained team of consultants can work on-site at your facility or off-site from our offices.
Healthcare IT Research
During this era of "Meaningful Use", many Healthcare IT companies are falling behind in meeting criteria for meaningful use. The developmental challenges are extreme and costly. The technology in Healthcare is the fastest emerging and changing one of our time. The utmost challenge in Healthcare IT Development is the simplicity and security of the information. Our organization would cooperate and volunteer in research on various healthcare IT domains like HIE, NHIN Direct, ICD-10, HIPPA 5010.
Healthcare IT Development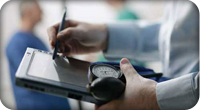 Is your EHR Product OR Clinic missing modules to achieve meaningful use? We can help to develop missing modules or we can help to develop missing modules or we can help to finalize incomplete modules in order to meet meaningful use guidelines....